Braised Bondiola Sandwich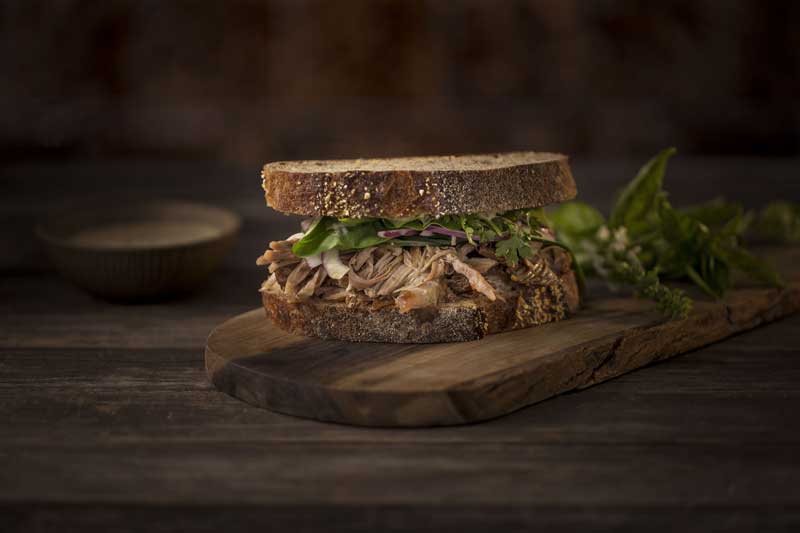 1 smoked pork shoulder (bondiola)
1 onion in cubes
1 red bell pepper in cubes
6 cloves of garlic, peeled and crushed
4 cm sliced ginger
1l black beer
3 tablespoons honey
1 bundle fresh rosemary
1 sliced country bread
1/2 cup mayonnaise
2 tablespoons mustard
1 fresh cucumber in slices
1 red onion, thinly sliced
1 bundle of arugula and basil
Season the piece with salt and pepper and sear the meat with a little olive oil on all sides in a frying pan or paella pan that can be taken to the oven later.
Remove the meat and in the same pan sauté the onion, bell pepper, garlic and ginger, add salt and incorporate the beer, evaporate the alcohol a little and then add the beef broth and honey.
Make a hole in the center and place the previously seared meat, season with the liquid, add fresh rosemary leaves and close with aluminum foil.
Bake at 180 degrees for 3 hours, remove from the oven and shred the meat with the help of two forks.
For the sauce, mix mayonnaise, mustard and a few spoonfuls of the cooking liquid and spread on the slices of country bread.
Assemble the sandwich with the bread spread with sauce, place the meat strands on top, some of the vegetables with the cooking juice, thin slices of cucumber, red onion, arugula leaves and basil and cover with the bread.
Great!
Watch the full recipe video