Meat: Uruguay's Country Brand.
Any foreigner with any kind of link with Uruguay will certainly have a link with its star product: meat
Not only is meat the industry with the longest history in Uruguay; it was the industry upon which the country was built; an industry that continues to thrive as part of the national identity, of the national culture. Meat is the product tourists most covet as they visit the country, and what investors seek when they want a world leading product to conquer markets.
No other sector of the country's activity is so comprehensive, so deep-rooted, such a part of the Uruguayan identity. It is our destiny: we were born with cattle raising, we live thanks to cattle raising.
Taste Uruguay
A Sustainable Country that produces quality food.
Uruguay produces food for 35 million people, 10 times its population, and aims to produce 1 million tons of quality meat by 2030. Our destiny is to export.
Lamb and cattle are the national wealth
Cattle breeding has always been seen as a symbol of wealth… and freedom, and the horse and ox featured in our coat of arms represent both. Also represented are our eagerness for justice (balance) and a hill in the background of a bay, our port. In the past the country was conceived as "harbor, grasslands and frontier". Our relationship with the world (port), cattle raising (grasslands), our insertion in the river region (frontier). So intertwined with all those are we, that we are the country proper.
Sheep and cattle have always coexisted in harmony, integrated in the same pastoral system. As they feed different types of pastures – at different heights), they manage to maintain an almost perfect ecological balance over time.
World Leader in Meat Production
Uruguay provides what customers need. With control and planning.
Some customers around the world prefer meat from pastoral systems from Grass Fed animals. Others prefer grain-finished cattle, because of the type of meat they produce: Grain Finish. Uruguay can supply both and so do the companies. Because that is the key: differentiation – being able to adjust to the customers' needs.
Uruguay: Global and LATAM leader in the ESG Ranking.
Third freest country in the world,
Second in the ranking of Clean Energy production, and
the first to complete the "One laptop per child" project.
The highest democracy index,
the lowest social inequality and
the best quality of life in the continent.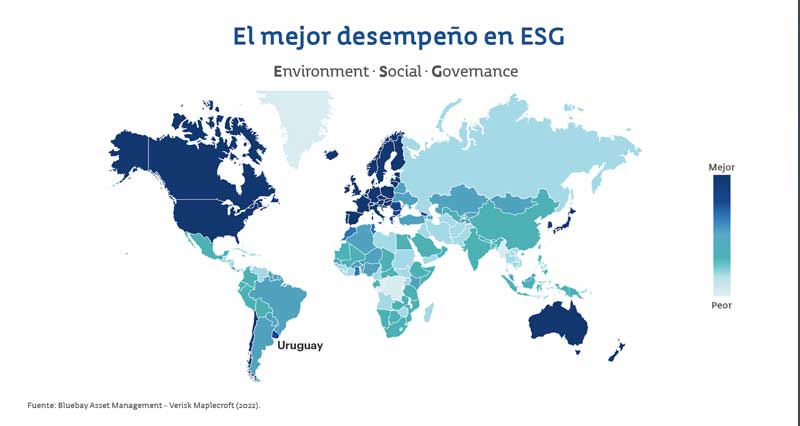 #1 URUGUAY ESG RANKING LATIN AMERICA
#1 Democracy
#1 Political Stability
#1 Lowest Country Risk
#1 Quality of Life
#1 Rule of Law
#1 Low Corruption
#1 Better Jobs Index
#1 Social Mobility
#1 Social Inclusion
#1 Social Protection
#1 Civil Liberties
#1 Gender Equality
#1 Digital Government
#1 IT Adoption
#1 Internet penetration
#1 Broadband Speed
#1 Fiber Optic Connection
#1 Fiber Optic Subscriptions
#1 Telephone Subscriptions
#1 Cell Phone Subscriptions